Business news to help you keep track of the latest developments and identify new opportunities across key sectors in Southeast Asia
Monthly Business News to Help You Understand the Market
Airbus to Invest USD 120 Million in Malaysian Aerospace Industry
Airbus SE announced on 30 August that it will invest MYR 505 million (USD 121 million) for three key initiatives to enhance the aviation and aerospace industry in Malaysia. ...
95% of Rural Population in Sabah to Have Quality Infrastructure by 2025
Malaysia's Rural Development Minister Rina Mohd Harun aims to ensure 95% of the rural population especially in Sabah will enjoy quality and efficient basic Infrastructure ...
WhatsApp Considering Mobile Payments Launch in Indonesia
WhatsApp, Facebook Inc's messaging services is reportedly in advanced talks with several Indonesian digital payment providers in a move to enter the country's quickly ...
SK Plasma to Introduce Blood Product Technology to Indonesia
SK Plasma, a producer of blood products which is part of the conglomerate SK Group, announced that in early September that it has signed an Memorandum of Understanding ...
MAN Energy Solutions Commissions Three Dual-Fuel Plants in Indonesia
MAN Energy solutions is working with the Indonesian government to supply over 1,000 islands with reliable power. Based in Germany, MAN Energy Solutions is the world's leading ...
Lion Air and Garuda Indonesia Join Hands to Build Hangars in Batam
The two largest airlines in Indonesia, Lion Air and Garuda Indonesia, announced in August 2019 that they are strengthening their cooperation in the aviation industry with ...
Indonesian and Korean Agencies Launch Green Technology Partnership Initiative
The Indonesian Agency for Technology Assessment and Application (BPPT) and the Green Technology Center Korea (GTC-K) announced a partnership through the launch of the Green ...
Indonesia Looking to Raise Foreign Ownership Caps by End-2019
By the end of 2019, the Indonesian government will announce plans to increase foreign ownership of businesses in some sectors, according to the head of Indonesia's investment ...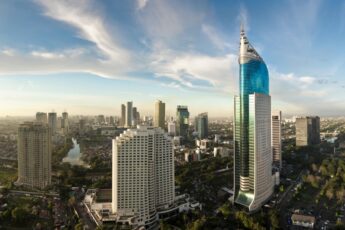 Indonesia Expected to Spend USD 33 Billion for Capital Relocation
Indonesia's President Joko Widodo has announced a USD 33 billion project to relocate the Indonesian capital from Jakarta to East Kalimantan, a province on the island of ...
China's Lesso Invests USD 60m to Manufacture Pipe Fittings in Indonesia
Capitalizing on China's Belt and Road Initiative, the Lesso group, a Chinese large scale industrial group specialized in building materials and interior decoration products ...
Bukalapak to Offer Insurance for E-Commerce Merchants and Customers
Singaporean insurtech firm, Axinan and Indonesian eCommerce company Bukalapak recently announced a partnership to provide insurance solutions for users of Bukalapak's ...
Vietnam's Thanh Hoa Province to Receive USD 2 Billion Investment from Chinese Firm
Mintal Group Co., Ltd, a Chinese-owned company, has been discussing plans with the Provincial People's Committee (PPC) to build a USD 2 billion ferrochrome, stainless steel ...